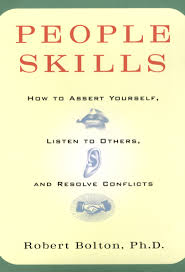 People Skills- Robert Bolton
 In this remarkable book, Robert bolton, PHD  identifies tweleve communication rodblacks and how to ov4come them. and other assertive techniques.
 Thi book is very useul for scientiest and engineers who have to communicate peole and  business leveders for project approval and funding for research and work. The first step of persuatuon is people skills. The last section of the book talks about Resolving conflict, which is extremely valuable for handling complex sales.
 In large organization, a complex sales involves conflicting interest and various personna. In such situation people skils is very valuable and may be difference between success anad failure.
References:
1.0 Peole skills- Robert Bolton
2.0  The New Strategic  selling- Miller Heiman
3.0